Get Your Parklet Ready for Spring
As we start to think ahead to the warmer months of spring and summer, planning for your outdoor parklet now is the crucial key to maximum success. It may feel like spring and summer are still ages away, but truth be told it really is only around the corner!
Now is the time to strategically plan out your space and get a clear indication of what it is you are after.

Since outdoor dining was welcomed onto our streets, parklets have come a long way in terms of viability, inclusions, and guidelines. The new idea has been embraced by so many business owners both within the city and suburban areas. After the initial 'testing the waters phase' of parklets late last year to early this year we have now seen the key benefits that parklets have implemented in struggling businesses through the pandemic. Parklets have given businesses a reason to stay open, continue trading and even reopen.
After so much positive feedback from customers and business owners themselves, it is now desired that outdoor dining become a permanent and ongoing feature that is here to stay.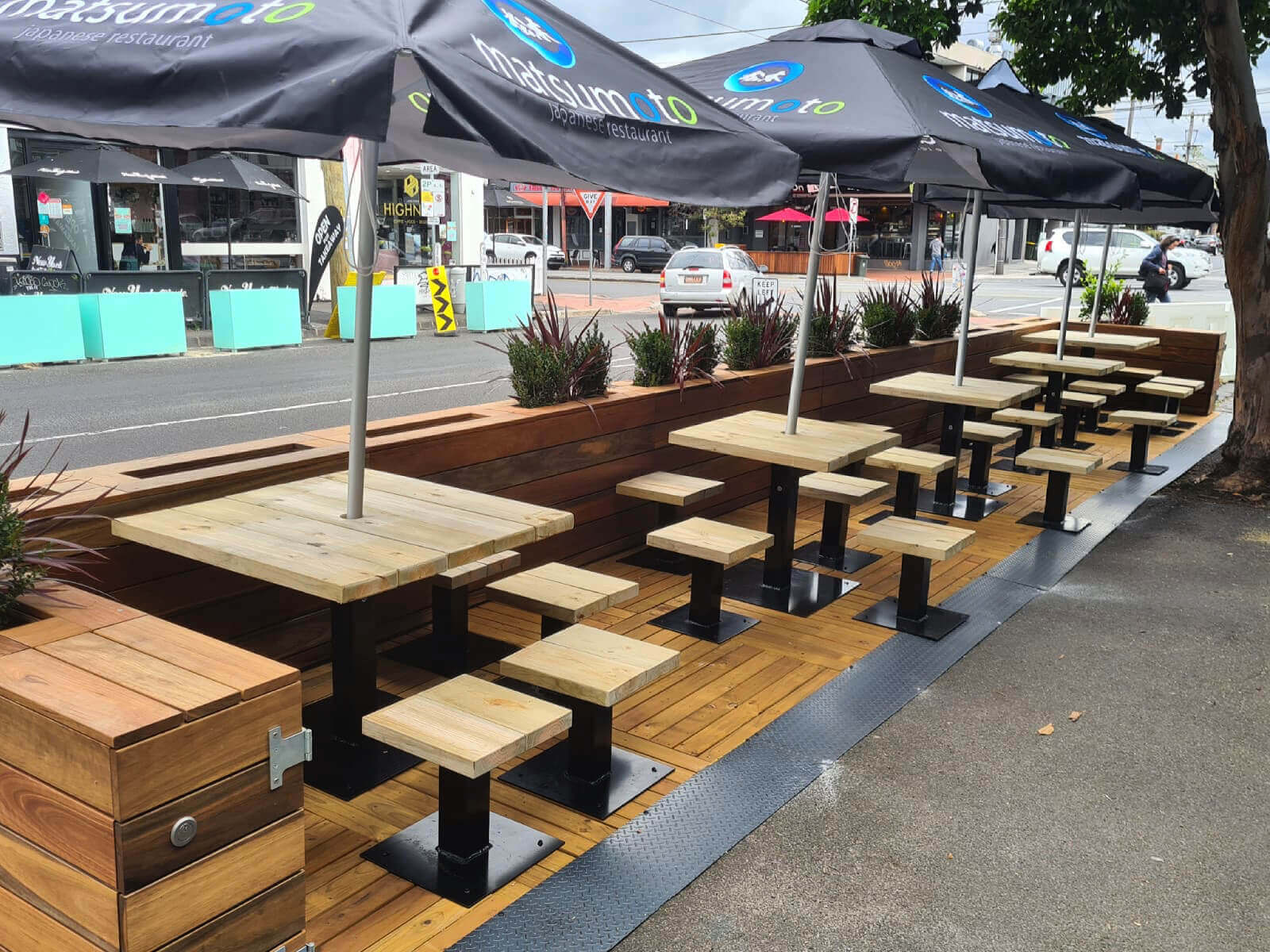 It was noted within the below article, the returns on a parklet were very positive for all and at least 75 per cent of venues generated more than $1642 in additional revenue per week once their outdoor dining had been installed.
(https://www.theage.com.au/national/victoria/melbourne-mulls-making-outdoor-dining-parklets-permanent-20210430-p57nv4.html)
A specific client of ours with a business in Phillip Island also reported back that his parklet made him an extra $10,000 per week over the warmer months! So, as you can see, it won't take long for the investment to pay for itself! Even with a basic parklet that would cost between $5,000 - $10,000, you'll see large returns on your investment within a month. Which makes it quite achievable for all.
So how do you get started?
It all comes down to when you want to have the parklet installed. To get the maximum benefits from your parklet our recommendation would be a September installation so you can maximise on the sunshine! If we worked off a September install, you would really need to start thinking about things in July. This is also dependent on your council, with when they are going to open permits and applications, so make sure you are in communication with them and watch their websites for updates.
The best way to start is by planning out your space and noting down everything which you require to function successfully. Only you know your customers and business best, so ensuring we tick off all the boxes is crucial.
Once you have decided on a desired space for your outdoor dining area, plan it out. It can become tricky when planning out a space, especially when needing to adhere to the COVID-safe rules and guidelines, this is where we can help you. Our designers can sketch up a fast floorplan to map out the space and ensure we are abiding by all regulations but most importantly ensuring we are using every inch of space to its maximum capacity.
From here these floorplans can be submitted to your council for approval as well. With so much positive feedback in relation to outdoor dining, councils are now more supportive than ever. Keep in mind, council approvals can take time and be a lengthy process, so ensure you factor this into your timeframe of when you want to aim to have the parklet installed too.
We have create many parklets and worked on many outdoor dining projects, so we are here to support you each step of the way.
Let's take advantage of the sunshine that is ahead and help you serve more customers with an early spring installation!
---